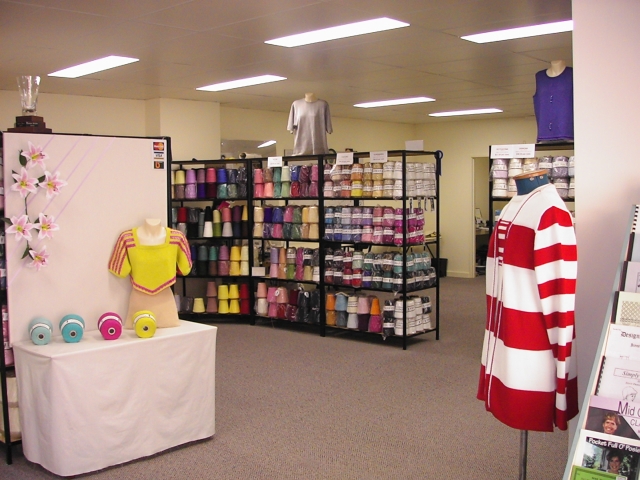 In July 1993, Tony Bennett and Robert Bettini started trading as DORMANI DESIGNS. The business was the designing and manufacture of a range of knitted garments (all knitted on a Brother KH940), which were sold through weekend markets around Perth Western Australia. This approach proved popular and after requests from customers we expanded to include sales via party plan. The parties were held in individual's homes but more often were used as fundraisers by various groups and hostels for the aged. This helped promote machine knitting and gave us invaluable knowledge of yarns, designs, knitting techniques and the market we were selling to.
1994 saw the closure of our yarn source, so it was time to look at other options. As it happened the Western Australian agency for Bramwell Yarns was available at this time. We purchased the agency and DORMANI YARNS came into being.
Over the years we have strived to bring the Australian domestic knitter a wide range of yarns at very competitive prices.
Bramwell Yarns decided to close down their yarn business and specialize in general craft so we now specialize in YEOMAN YARNS and we also carry various industrial and non repeatable specials. Our policy when purchasing yarn ranges has always been to carry a range in all of its colour options.
Display garments using different yarns are featured around the showroom helping knitters to have a better idea of the feel and look of the finished article. It is amazing how different a yarn can look from cone to garment.
The original building a 318 Lord Street housed the office and demonstration area with the yarn stocks upstairs. The demonstration area was very small which limited both workshops and club visits so in 1999 it was decided to demolish the building and to create the new showrooms purpose built to show yarns and machines and to retain an area just for visits/workshops. This expansion works really well providing ample space for larger groups.
Since 2001 Tony Bennett has been conducting workshops for machine knitters. He has travelled to NSW, Victoria, South Australia, Queensland, Western Australia and across to New Zealand. In 2013 Tony was the international tutor for Dream Week at the Metropolitan in the UK and while there conducted a hands on woekshop. Tony has also given talks about machine knitting and fashion trends to a number of different craft groups.
Any Machine Knitting Associations, knitting clubs, individual knitters or craft clubs that are interested in Tony conducting workshops please conduct him for further details and availability.
The reason we have selected Yeoman Yarns as our supplier is not only for their product range but also their ethical policy which we have reproduced here:-
"Ethical Policy/Fairtrade All products are spun and dyed under stringent controls, to ensure quality, wash fastness, no use of environmentally harmful dyestuffs or chemicals, and comply with European ECO/ISO standards. There is No use of cheap labour, and we do NOT source any products from any area we have not thoroughly checked-out beforehand to ensure compliance with our high ethical standards. "